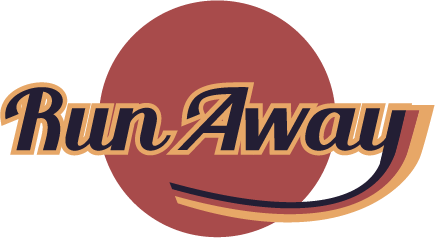 Run Away

Run away is a 2D runner game seen from side. It is for 2 players. The first one has to get at the end of the level before the other catches him up.

In order to win, player 1 can throw objects on the ground to slow player 2, which is able to whip him to catch him up.
The game is made to work with 3 buttons for the first player and 2 buttons for the second one. But the latter will also have to "touch" the other player (both players are linked with a wire) in order to activate the whip.
The first character is a man and the second one is a woman.
The artistic direction is a 50's-60's style, the game taking place in a retro area, mid-20th century.
In order to emphasize the "love" topic, human contact had to be used, plus, the story is based on a love story.

Georges is a handsome 25 year-old french man who lives his youth in the 60's.
A young woman, Alice, fell in love with him and started to stalk him for quite some time. It's hard for him to go out of his house and not see her following him.
Everyday, he has to avoid her, which makes him run away to escape. Moreover, he is already married and did everything he could to make her stop.
In this game, the first player has to help Georges to go home before Alice catches him up. Whereas the second player (aka the young woman) has to catch him up to show him her feelings.
[video]

ALDEBERT Alexia - Producer / Game Designer
ORTOLAN Raphaël - Game Designer
ROGE Nicolas - Game Programmer

RAILLON Ulysse - Game Programmer
PROUST Emilien - Lead Graph / Game Art / Animator
GARNIER Mathilde - Game Artist / Ux Designer
MOREE Lila - Game Artist
MAOLE Axelle - Game Artist
LAFONT Marine - Game Artist / Graphist
MOUTTAPA Oriane - Game Artist / Graphist
DUAZO Loris - Graphist / Animator
DE BARRAU Victoire - Graphist
ECHARD Clément - Graphist
GALLIER-LUCAS Eliott - Ux Designer / Graphist
Install instructions
Download instructions:
Download the .rar file
Extract the file
Launch the "GameJam JV et Crea.exe" file
Good Game !